Michelle Pieroni, Office Manager
Michelle married her high school sweetheart, Michael, in 1988 and moved to Bolingbrook in 1995. They have three beautiful children, Michael II, Nicholas and Payton. All three of the children attended Bolingbrook schools through 8th grade and then went on to graduate high school from Benet Academy in Lisle. Currently, Michael II, a 2012 Lewis University graduate, lives in Oswego with his wife Nicole. Nick, who graduated from the University of Kentucky in 2014, lives in Bolingbrook with his wife Jordan and their new daughter, Francesca. Payton is currently attending Columbia College Hollywood focusing on a degree in film and special effects make-up. Michelle and Michael are extremely proud of their family.
One of her greatest fortunes was being able to stay home with her children when they were little. For nearly twenty years, she was extremely active in the Valley View School District, dedicating many countless hours to helping teachers, organizing and implementing fund-raisers and sitting on numerous committees aimed at making the schools a better learning environment. Her time spent within the local schools was an extremely rewarding experience.
In 2005, Michelle obtained her State of Illinois Restate License. Although no longer full time, she still stays busy practicing Real Estate, helping family and friends find places to call home.
Christmas Eve 2010, Michelle attended her first service at Crossroads. She loved it from moment one and has called it home ever since. Michelle has served on many teams including Worship, Family Ministries, Christian Education and Staff Parish. She also helps with the Young Adult Group. Above all, her most favorite service came in being an adult leader on the Youth Missions Trips to Bayou La Batre, Alabama, Harrisburg, Pennsylvania, and St. Paul, Minnesota. Seeing God working through the kids was amazing!
After her children were no longer completely dependent on her, she felt she needed to enter the working world. She worked as an Administrative Assistant at Otis Elevator and most recently at ThyssenKrupp Elevator, as the Modernization Coordinator. It took a few years but she realized the corporate world was not for her. In November of 2017, Michelle took a leap of faith and resigned from her position at ThyssenKrupp Elevator and took over the Office Management of Crossroads of Faith.
In her spare time, you can find Michelle playing with her new grandbaby, Frankie, doing something crafty, planting succulents, talking to her four dogs, spending time with friends and family, and working on forming a suicide awareness foundation to honor and remember her beautiful niece, Samantha. Her food weakness is cinnamon buns, but her absolute favorite thing in the world is seeing her children's smiles.
Michelle looks forward to bringing her talents and ideas to Crossroads, as well as helping the Church grow. Michelle truly believes her earthly mission is to serve others.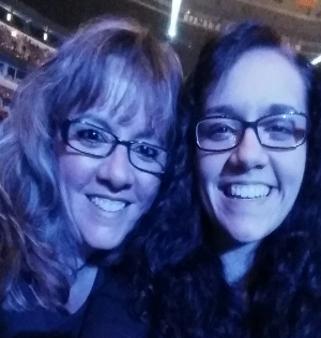 Michelle & her daughter Payton