Invite, Equip, Send... people to be Disciples of Jesus Christ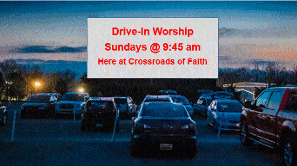 Welcome!
Join us Sundays for our
Drive-In Worship
@ 9:45 am
We're delighted that you are visiting us online! Come join the congregation of Crossroads of Faith and our talented praise band in a caring community and uplifting worship. Our contemporary worship services are a wonderful blend of spiritual tradition, raising prayers of joys and concerns, preaching the gospel, and live contemporary Christian music. Read more about us here.
Come join us! We look forward to seeing you.
Haven't been to church in a while? or ever? You are welcome to come (back) any time... no questions asked.
If God has been calling to you or if you are looking for strength or direction in your life, searching for meaning or purpose, for healing, acceptance, reconciliation, or redemption, please check us out.
Read about all the opportunities we have here.