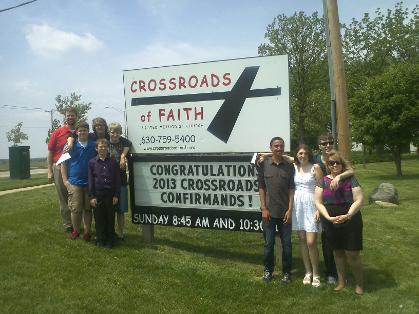 Our 2013 Confirmands with Crystal and Pastor Wesley. Congratulations to you all!
Youth Group
Middle and High School Students, join us Sunday evenings for youth group from 5:00 - 6:30 pm. Bring your friends for a great time! We have great discussions, play games, and enjoy food!
Children's Church
Each Sunday, there are opportunities for youth to gather with one another and learn together during the 10:30 am worship service.
Youth group meets in the Sanctuary ("The Tent") at the 10:45 service and then we move into the Education Building ("The Barn").
A nursery is available during both morning worship services as well.
Volunteers are needed to sign up to provide food for our Sunday evening youth group. A calendar for signing up will be available in the back of the sanctuary by the cafe table. Or feel free to contact our Youth Director,

Emily

.